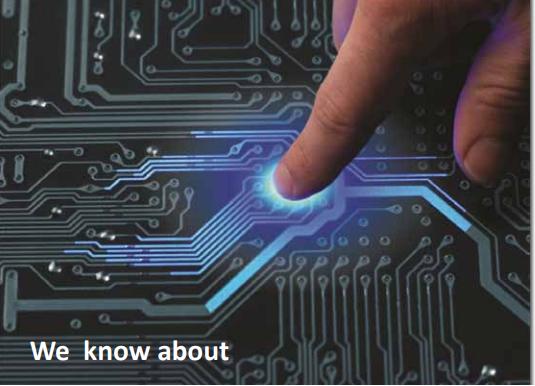 WHAT WE DO
1. Cyber security Risk Management
Effectively managing IT and cybersecurity risk requires specialized expertise. Enthalpy-Ltd offers flexible, responsive cyber security risk management services that can be customized to address your unique needs and risks.
A Fast-Changing Environment
Even organizations with mature risk management programs can struggle to stay current with today's fast-changing cyber security risks.
The challenges include:
➢ Explosive growth in IT security threats that can lead to data or financial loss
➢ Evolving standards, frameworks, and regulatory expectations
➢ Proliferation of technology and third-party reliance across the organization
➢ Changing business conditions, including growth, mergers, and new products or services
Comprehensive Enthalpy Response
To address these challenges, the Enthalpy-Ltd portfolio of services includes:
➢ IT and cyber security risk assessments
➢ Design and implementation of IT risk management programs
➢ Security assessments, audits, and testing
➢ Program effectiveness and maturity assessments
➢ Cyber security solution design and road maps
➢ Definition of residual risk, risk tolerance, and risk appetite for the organization
➢ Cyber resilience programs to limit damage and speed recovery
➢ Virtual CISO for the strategic planning, development, and management of an effective security program
➢ Implementation of governance, risk management, and compliance (GRC) solutions
Enthalpy-Ltd draws on strong technical capabilities, deep industry expertise, and extensive experience with numerous control frameworks and standards to deliver a cyber security risk management program that is flexible, adaptable, and highly responsive to your organization's specific needs.
2. Implementing Cybersecurity Solutions
Day-to-day maintenance of IT functions can leave little time and few resources available for implementing critical cyber security controls to protect key data assets. Enthalpy offers deep cyber security knowledge and industry-specific specialization to help you implement or optimize these vital cyber security controls to protect your critical data and meet compliance expectations.
Enthalpy Cybersecurity Risk Services Approach
➢ Assess
➢ Design
➢ Implement
➢ Execute & Optimize
Staying Ahead of the Curve
With fast-changing business conditions and limited IT resources, businesses often struggle to capitalize on their technology investments and make the most of their available cyber security solutions. The solution choices themselves are often vendor-driven, and internal resources often lack the specialized knowledge needed to understand what is truly
needed. Businesses can find it challenging to identify what solutions will best reduce their risks to an acceptable level and within budget constraints.
How Enthalpy Can Help
Enthalpy-Ltd professionals deliver comprehensive cyber security implementation services, drawing on our extensive experience with today's most widely applied solutions, and a broad, "big picture" understanding of your business and top threats.
In addition, Enthalpy-Ltd implementation team coordinate closely with our assessment and penetration testing teams, which combine deep technical expertise with the ability to "think like an attacker." The result is a flexible, adaptable, objective approach that can help you prioritize, implement, and optimize critical solutions such as:
➢ Security information and event management (SIEM) implementation
➢ Password management and multifactor authorization
➢ Vulnerability management
➢ Security awareness program
➢ Data leakage protection (DLP) implementation
3.Pen Test Services to Detect Your Vulnerabilities
Penetration testing is more than just a matter of regulatory compliance.
It's a key component to a sound cybersecurity risk management program – critical to identifying vulnerabilities and testing the effectiveness of your security controls and incident response. Enthalpy-Ltd provides a broad range of pen testing and advanced security assessment services to help you implement a best-in-class cyber security strategy.
The Scope of the Challenge
Loss or exposure of sensitive information not only impairs critical business processes but can also result in significant reputation damage.
Boards and audit committees seek reassurance that their organization won't be the next headline.
Thinking Like an Attacker
Enthalpy-Ltd penetration assessments are carried out by experienced professional hackers who have learned to think like an attacker. Each assessment is customized and fully integrated with other end-to-end Enthalpy-Ltd cybersecurity services, which include:
➢ External assessment – attempted breaches from outside your network
➢ Internal assessment – mimicking the actions of a malicious insider
➢ Wireless assessment – wireless encryption, rogue detection, war-driving/walking
➢ Web application assessment – customized testing of business applications
➢ Social engineering assessment – revealing weaknesses in employee practices
Enthalpy-Ltd certified specialists are thought leaders on information security issues and regularly speak at national security conferences, including Black Hat®, DerbyCon®, Def Con® and BSides®
4.Addressing Your Data Privacy Concerns
Today's businesses are under increasing regulatory and consumer pressure to protect customers' and employees' sensitive personal information. Enthalpy-Ltd can help you effectively address data privacy and security concerns, while also supporting regulatory compliance.
A Coordinated Approach
Our professionals can help evaluate your overall data privacy governance, oversight, and monitoring programs, assess program gaps and vulnerabilities, and help coordinate an integrated approach that supports your broader cyber security and risk management strategies.
Enthalpy Data Privacy Initiatives
Leaks, theft, or exposure of protected data can cause significant reputational damage, while failure to comply with necessary privacy regulations can severely limit strategic opportunities and result in significant penalties.
Enthalpy-Ltd data privacy teams – including highly skilled, CIPP-credentialed specialists – can help you maintain compliance with complex privacy regulations such as:
➢ EU General Data Protection Regulation (EU GDPR)
➢ Health Insurance Portability and Accountability Act (HIPAA) Privacy Rule
➢ EU-U.S. Privacy Shield Framework
➢ Gramm-Leach-Bliley Act (GLBA)
➢ ISO/IEC 27001
5. Cyber Resilience: Rapid and Effective Breach Response and Recovery
Recent waves of cyber-attacks have led many organizations to look beyond the question of "if or when" a breach might occur and focus instead on "how" they can weather the inevitable attack and maintain operations. Enthalpy-Ltd can help you refocus your cyber security risk management efforts to prepare for incidents and breaches and respond effectively.
Preparing for the Inevitable
With technology playing a critical role in almost every business operation, no organization can afford to find itself in a reactive mode when a cyber breach occurs. As attacks continue to grow in number, persistence, and sophistication, cyber resilience has become an essential component of business resilience, continuity, and disaster recovery efforts.
A Proactive, Comprehensive Approach
Enthalpy-Ltd cyber resilience professionals are proficient in the major cyber security standards and frameworks, including NIST, CERT-RMM, COBIT, and ISO 27001. They also draw on our extensive assessment, attack, and penetration testing capabilities as part of a comprehensive, two-phased approach:
➢ Evaluation and preparation – establishing a baseline, identifying threat scenarios and vulnerabilities, and developing risk mitigation plans
➢ Incident response – executing an immediate breach investigation and well-planned response to limit damage and resume normal operations as quickly as possible
Cyber Resilience and Incident Response Strategy
Plan and Practice
• Risk assessments
• Deployed security controls/solutions
• Routine testing/audits
• User awareness/education
Identify and Respond
• Your alarms
• Malware, whitelisting, DLP, SIEM, etc.
• Tip Lines
Investigate, Contain, and Remove
• Specialized training, techniques
• Specialized tools/solutions
• Outside help
Reflect and Refine
• Metrics
• Measures
• Proof of performance
6.Efficient, Effective, Comprehensive Cybersecurity Management
In today's business climate, strategically and efficiently managing your cyber security risk is critical to your organization's success. But the cost and complexity of needed infrastructure – along with the struggle to find and retain qualified personnel – can present significant challenges.
Minimize Your Security Risk
Enthalpy-Ltd managed security services offer an efficient and comprehensive cyber security approach that can help you manage the effectiveness of your cyber security solutions, while at the same time reducing costs and minimizing the impact on your existing IT staff, infrastructure, and other data resources.
A methodology of Focused Cyber security Services
Managed security services let you focus on your organization's goals and objectives, while our cyber security professionals handle critical and sensitive cyber risk management functions.
.
Our managed cyber security services include:
Security Information and Event Management (SIEM)
Antivirus and Anti-malware
Data Loss Prevention (DLP)
Firewall Monitoring and Management
Disaster Recovery and IT Vault